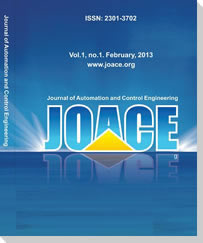 Journal of Automation and Control Engineering
Welcome to the website of the Journal of Automation and Control Engineering. JOACE aims to provide a high profile, leading edge forum for academic researchers, industrial professionals, engineers, consultants, managers, educators and policy makers working in the field to contribute and disseminate innovative new work on Automation and Control Engineering. All papers will be blind reviewed and accepted papers will be published bimonthly, which is available online (open access) and in printed version.
Recently Published Papers
On Replacing PID Controller with Deep Learning Controller for DC Motor System

Kangbeom Cheon, Jaehoon Kim, Moussa Hamadache, and Dongik Lee

Many techniques are implemented in the industry to control the operation of different actuators on field. Within these actuators, the DC motor is a popular tool. The output of the DC motor, the speed can be controlled to drive several industrial parts. There are different type of controllers for such application including linear and nonlinear controllers, adaptive controllers, and artificial neural network controllers. This paper addresses the use of deep learning algorithm to design the controller;....[Read more]
ISSN: 2301-3702
Editor-in-Chief: Dr. Hadj Hamma Tadjine
Associate Executive Editor: Ms. Shira Lu
DOI: 10.18178/joace
Abstracting/Indexing: EI (INSPEC, IET), Ulrich's Periodicals Directory, Google Scholar, Crossref, Engineering & Technology Digital Library and etc.
E-mail questions to JOACE Editorial Office.