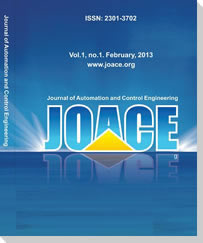 Journal of Automation and Control Engineering
Welcome to the website of the Journal of Automation and Control Engineering. JOACE aims to provide a high profile, leading edge forum for academic researchers, industrial professionals, engineers, consultants, managers, educators and policy makers working in the field to contribute and disseminate innovative new work on Automation and Control Engineering. All papers will be blind reviewed and accepted papers will be published biannually, which is available online (open access) and in printed version.
Recently Published Papers
The Finite Element Analysis for Shot Peening Process of 20 Balls
Jithin Ambarayil Joy, Muhammad Sajjad, and Dong Won Jung
Department of Mechanical Engineering, Jeju National University, Jeju, South Korea
Shot peening process is one of the widely adopted surfaces strengthening technology in the factory. It has some advantages and disadvantages compared with other processes (casting, welding, stamping, etc.). For example the advantages of the shot peening process: the process has the simple equipment, low cost of doing, not restricted by....[Read more]
ISSN: 2301-3702
Editor-in-Chief: Dr. Hadj Hamma Tadjine
Associate Executive Editor: Ms. Shira Lu
DOI: 10.18178/joace
Abstracting/Indexing: EI (INSPEC, IET), Ulrich's Periodicals Directory, Google Scholar, Crossref, EBSCO and etc.
E-mail questions to JOACE Editorial Office.