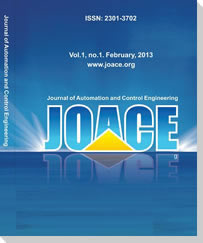 Journal of Automation and Control Engineering
Welcome to the website of the Journal of Automation and Control Engineering. JOACE aims to provide a high profile, leading edge forum for academic researchers, industrial professionals, engineers, consultants, managers, educators and policy makers working in the field to contribute and disseminate innovative new work on Automation and Control Engineering. All papers will be blind reviewed and accepted papers will be published biannually, which is available online (open access) and in printed version.
Recently Published Papers
Intelligent Control of a Solar Thermal Power Plant - Adaption in Varying Conditions
Esko K. Juuso

Solar thermal power plants collect available solar energy in a usable form at a temperature range which is adapted to the irradiation levels and seasonal variations. Solar energy can be collected only when the irradiation is high enough to produce the required temperatures. During the operation, a trade-off of the temperature and the flow is needed to achieve a good level for the collected power. The intelligent control system based on intelligent analyzers and predefined adaptation techniques activates special features when needed....[Read more]
ISSN: 2301-3702
Editor-in-Chief: Dr. Hadj Hamma Tadjine
Associate Executive Editor: Ms. Shira Lu
DOI: 10.18178/joace
Abstracting/Indexing: EI (INSPEC, IET), Ulrich's Periodicals Directory, Google Scholar, Crossref, EBSCO and etc.
E-mail questions to JOACE Editorial Office.