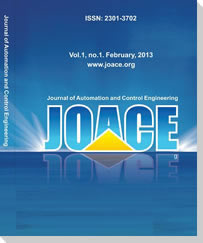 Journal of Automation and Control Engineering
Welcome to the website of the Journal of Automation and Control Engineering. JOACE aims to provide a high profile, leading edge forum for academic researchers, industrial professionals, engineers, consultants, managers, educators and policy makers working in the field to contribute and disseminate innovative new work on Automation and Control Engineering. All papers will be blind reviewed and accepted papers will be published biannually, which is available online (open access) and in printed version.
Recently Published Papers
Comparison of Human–Robot Interaction of Robot for Children's Hospital Life Adaptation
Hyeongju Ryu, Hyeongsuk Lee, Yeong Joo Hong, and Jeongeun Kim
Seoul National University College of Nursing Consumer Health Informatics & Communication Lab, South Korea
Experiencing hospitalization and illness is an important event that affects the child 's development process. However, pediatric hospitals do not fully consider the child patients' adaptation as they mainly focus on the treatment and prevention of disease. Therefore, Robot 'Mun' was proposed to help children's treatment process in order to provide a pleasant....[Read more]
ISSN: 2301-3702 (Print )
Editor-in-Chief: Dr. Hadj Hamma Tadjine
Associate Executive Editor: Ms. Shira Lu
DOI: 10.18178/joace
Abstracting/Indexing: Google Scholar, Crossref, EBSCO and etc.
E-mail questions to JOACE Editorial Office.